Exploring debt collection technology: SMS in the United States
SMS messaging in collections is still a relatively new concept. Navigating associated regulations, privacy requirements and risks present challenges that can unfortunately stifle innovation such as the introduction of new digital channels.
But with 85% of consumers stating that they prefer to receive an SMS instead of an email or phone call, it's clear that there's an overwhelming opportunity present. 
By listening to customer preferences, engaging through the channels they prefer, and creating more convenience in their collections experience, SMS paves the way to truly innovate debt collection technology for the better. 
In this article, we'll share the steps to build safe and compliant technology to underpin SMS messaging in collections - and truly bring collections communications into the digital-age.
The regulatory landscape
Before you get started with building the infrastructure to support SMS messaging, it's essential to understand the laws that shape the regulatory environment in the United States:
Fair Debt Collection Practice Act: Covers both email and SMS
Telephone Consumer Protection Act: Covers SMS only and requires you have to consent to text a customer. Consent is normally captured by the client but it can be obtained at any time, by anyone. Unless it's revoked prior to the sale of the debt, the consent passes to the debt buyer. You can send a text without consent if you use human intervention / peer-to-peer.
Regulation F: Modernized the Fair Debt Collection Practices Act in November 2021 and tightened regulations around voice calls, heightened the importance of using electronic communications, and created safe harbors.
How to select a number to send SMS from
A critical decision in building the right infrastructure for SMS is choosing the right number type. So, what are the options?
Application-to-Person Ten-Digit Long Codes (10DLC) - A2P 10DLC texting allows brands and consumers to engage in two-way messaging using an existing business phone number that has a local identity. 
Short code - Short code texting allows brands to send high volume alerts, notifications, verifications, and promotions to engage with their customers at scale.
At face value, the choice doesn't seem overly complicated. But for collections specifically, there's more to both of these numbers than meets the eye: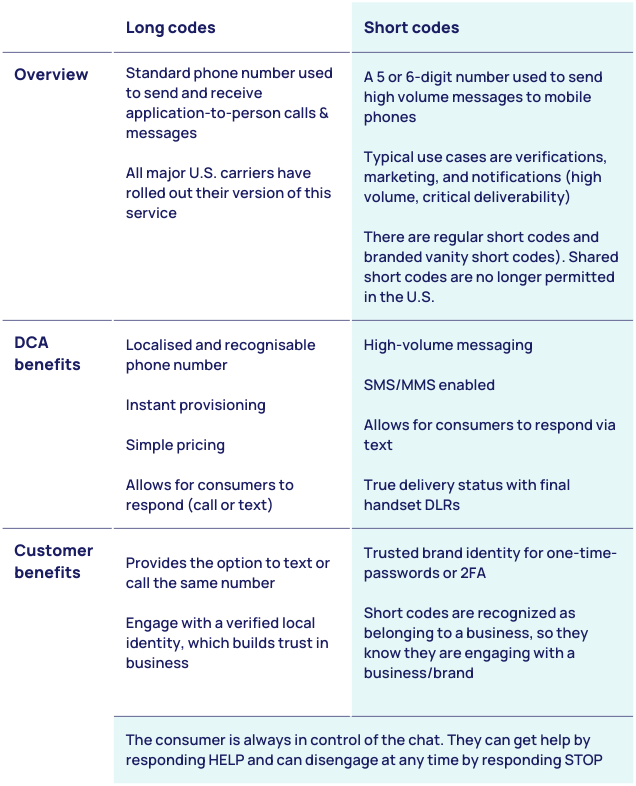 Why are long codes less viable in debt collection technology?
On the surface, long codes may seem like the best choice due to its high volume messaging capability, ease and low cost to set up. However, the reality of using them in debt collection is quite different.
The Campaign Registry, which manages campaign vetting for A2P 10DLC, has been known to systematically reject campaigns from DCAs. Here are some examples of rejected templates:
"Collections here! Don't forget you can message us via SMS to discuss your account at any time. Reply here or give us a call. Reply STOP to unsubscribe."
"Want to learn more about how you can manage your account? Login to our website to view your options. Reply STOP to unsubscribe"
Plus, even if a campaign is approved, there's always the potential of carriers filtering or blocking messages. Where the primary goal is reliable communication with customers, these roadblocks make that far less likely to be achieved.  
How short codes offer a new solution
In contrast, short codes bypass filtering issues. There's a rigorous application process and earned approval, which takes around 6-12 weeks - but once you've got through, it's onwards and upwards! 
Once obtained, its strong deliverability metrics mean messages can be sent with confidence. This gives you peace of mind that texts will reach the right customers, so you can focus on crafting messages that are friendly, compliant, and effective.
Short codes also give you full control over the opt-in and opt-out process. This reduces the risk of violating regulations like the TCPA, which requires explicit consent to send messages to customers. You can ensure your debt collection technology is compliant with regulations and demonstrates respect for customer preferences - showing that you're here to help, not harass.
In short
While the path to obtaining and using short codes might be a bit longer and costly, the increased deliverability rate and greater control over the opt-in and opt-out process make it well worth the journey. With these five to six-digit codes, you can stay balanced on the tightrope of SMS messaging in US collections, firmly grounded in compliance and communication that truly supports customers to get back on track.