Launching Spanish language capability in Collect
Spanish is the second most widely spoken language in the United States. To put that into numbers, approximately 42.5 million people speak Spanish as their native tongue, and there's 54.2 million Spanish speakers in the USA overall. 
Now, Collect's new end-to-end Spanish experience can support more of your customers in the United States, in their preferred language. 
Over 48% of customers we support are located in  the United States, and to ensure that our intelligent collections can enable more consumers to become debt-free, building Spanish language capabilities into our product is a natural next step. 
Supporting Spanish-speaking customers, with a true omnichannel experience 
All the way through their collections experience - from the first message received, to managing their account in our self-serve portal, to engaging with our customer support team, our entire collections journey is now available in Spanish. When referred to our product, Spanish speaking customers can manage their debt using all digital and voice channels:
Website: They can find FAQs, forms and information on our newly refreshed website
Emails: IDL/MVN, collection and transactional communications
Customer portal: Customers can self-serve by creating a payment plan with a start date, frequency and amount of their choice, or make a full payment using Collect's customer portal
Customer Support team: For those who do prefer to speak to someone, our Spanish speaking agents are always happy to help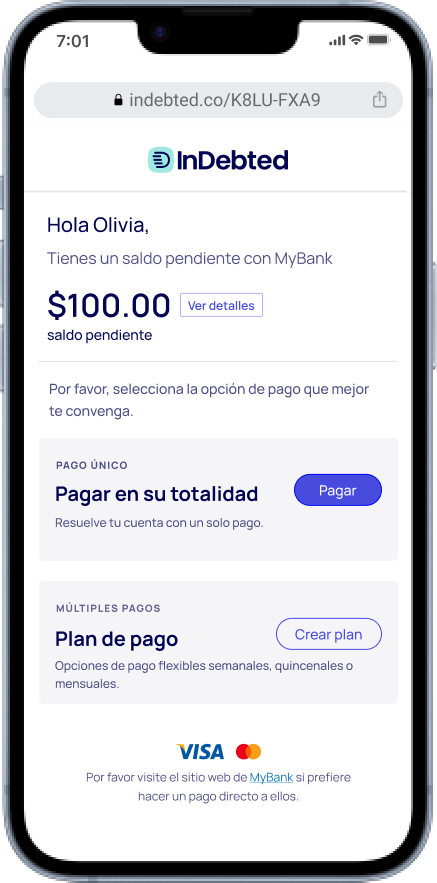 See how Spanish customers experience Collect
While 4 in 5 customers prefer to manage their accounts self-serve, being customer-first means ensuring there are options available for everyone's preference, including those who want to manage their debt through an agent. Our specialist Customer Service team has Spanish speaking team members, who can support those that need a helping hand and a friendly voice. 
Creating a personalized experience, not just an 'add on'
Collect creates a personalized, intuitive journey for every individual. Our machine learning models ensure that their entire journey is tailored to them and their preferences, optimizing every interaction. When an account is referred to Collect, language preferences can be flagged and matched with our proprietary behavioural and engagement data. Through data science, we know how people with the same attributes prefer to resolve their debt, and the best way of reaching others to do the same.
With multiple communication channels and new templates added and tested regularly in Spanish and English, our models enhance each step of the collections process to maximize engagement and conversion rates. 
One collections solution for multiple markets 
Spanish is the latest language added to Collect, in addition to  English and French Canadian. Unlike most other collections agencies, InDebted can infinitely scale with clients as they grow into new markets or increase account volumes, with the ability to handle any number of accounts per month with no impact to operations or performance. 
All consumers deserve the same experience, and a better way to get back on track. Find out how InDebted can support your business and customers. 

Learn more