How InDebted's digital-first, self-serve product supports Energy sector customers
Our client is the UK's most awarded energy supplier, powering homes and businesses with 100% green electricity.
Location

United Kingdom

Industry

Energy

Business size

6.5 million customers
Company profile
Our client is the UK's most awarded energy supplier, powering homes and businesses with 100% green electricity. With over 6.5 million customers and growing, they partner with InDebted to support customers with overdue payments. Typically, the accounts are 70 days past due, and have been through internal collections before being referred to InDebted.
Challenge
The energy sector is feeling the strain of tight margins - wholesale energy costs have skyrocketed, and it's a fine balance between profit, efficiency and keeping customer prices as low as possible. And while energy companies are absorbing the brunt of this, bad debt has a cost - if even 1% energy customers choose never to pay, that'd work out to about £25 extra on every other customers' bills each year to cover the cost. 
Solution
When customers are feeling the pressure but business needs must be met, an empathetic and supportive solution is needed. InDebted's digital-first, flexible product provides overdue customers with a more convenient way to pay back energy bills - and it works.
From their first communication, customers are contacted through the channel our machine learning models predict will work best for them. A breakdown of engagement rates shows that email is the top choice - with more than 1 in 2 (69.7%) of energy customers resolving their account after receiving an email from InDebted.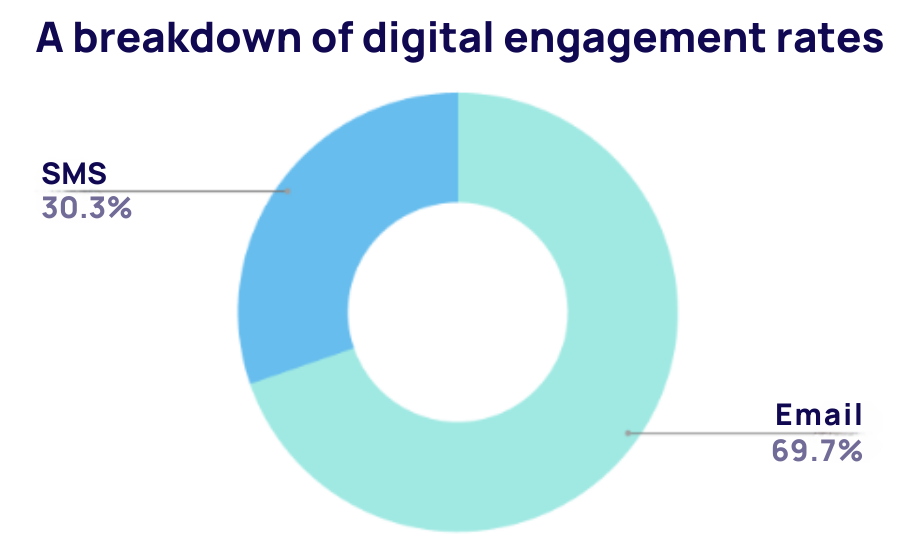 Self-serve is another staple, enabling customers to pay their balance in one go or set up a bespoke payment plan all through our online portal. This level of convenience is a clear winner, with 72.3% of the client's customers self-serving their accounts without needing to reach out to our Customer Experience team. For those who do need a little extra support, they can contact our dedicated team via phone, webchat, email or SMS. 
"The agent was amazing in resolving the challenge I faced in a friendly and understanding manner. Now resolved and in a very stress free way. Not an easy recommendation given the nature of the engagement and the current financial climate but if you have go through it better resolved using InDebted. 10/10"  - 5-star UK customer review
Impact
Working with this energy client since June 2021, in the last 12 months alone we've supported their customers to pay back over £1 million in energy bills. By offering ease and flexibility, 77% of customers choose to clear their debt over time by setting up a payment plan through our online portal. In a few quick steps, they can choose the start date, frequency and instalment amount that works best for them. The average instalment amount is £23.02, with 87% choosing monthly payments (as opposed to weekly or fortnightly).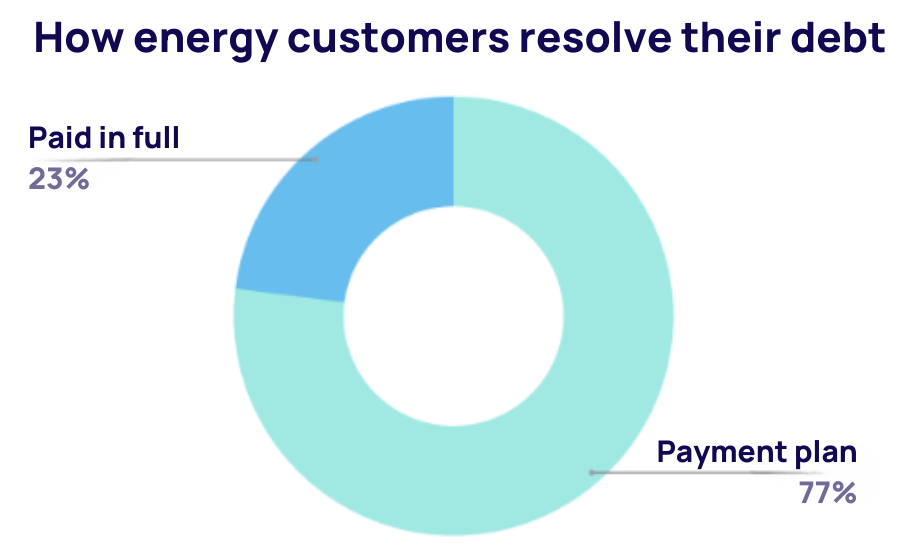 If customers can afford to pay in full, the portal supports this too, with the average balance paid in full coming in at  £139.32.
So what's the secret behind the results? Digital-first engagement gives customers full autonomy to manage their account - from how much they pay to how often, customers decide what works best. At a time where balancing surging energy prices and customer outcomes while recovering bad debt is crucial for this sector, InDebted paves a way forward.
Take a tour of Collect