A common question asked of debt collection agencies is how successful are they in retrieving accounts in later days past due. Some businesses believe the older the account, the less susceptible it is to a digital approach. But a digital debt collection strategy works regardless of the stage an overdue account is at. Here's why.
One oft-quoted argument against digital collections is that they're too soft, and that customers need to be threatened or scared into making payments. But as a digital debt collections agency, we at InDebted have always opposed that approach. We believe success in collections comes down to effective customer engagement, irrespective of how old accounts are. We deal with each stage of the collections process – from the initial 30-60 days past-due (DPD) through to 180 DPD – and part of our success is attributable to the personalized and timely communications provided to customers.  
"If you send customers communications that are well targeted and engaging, and if you lead with empathy that shows you're helping that customer to understand their situation, then you have engaged with them better," InDebted CEO Josh Foreman says. "Once you have that engagement, you can then have the right conversation about resolving their account and helping them get back to financial fitness."
Proof is in the performance
Customers prefer to communicate with organizations using the channel of their choice and this also applies to collections. It's important to get the messaging and the channel right as early as possible in the process as it provides for a more frictionless approach. Our success in this area is reflected in our performance figures, with many customers making a payment or organizing a payment arrangement using the digital channel by which they were contacted. Between January-June 2021, 6.45% of Australian customers, 38.9% of Canadian customers and 38.09% of New Zealand customers made a payment or organized a payment arrangement using the digital communications we sent.
We also achieve a higher chance of payment-in-full following the first message we send to customers (see chart below). For example, 39.2% of customers paid their account in full after receiving a first message from us, while 61.47% organized a payment plan. Following a second message from us, 32.09% of customers paid in full and 68.29% set up a payment plan. And while we collect payments globally from as early as the first week an account is referred to us, this amount only grows regardless of the accounts' DPD.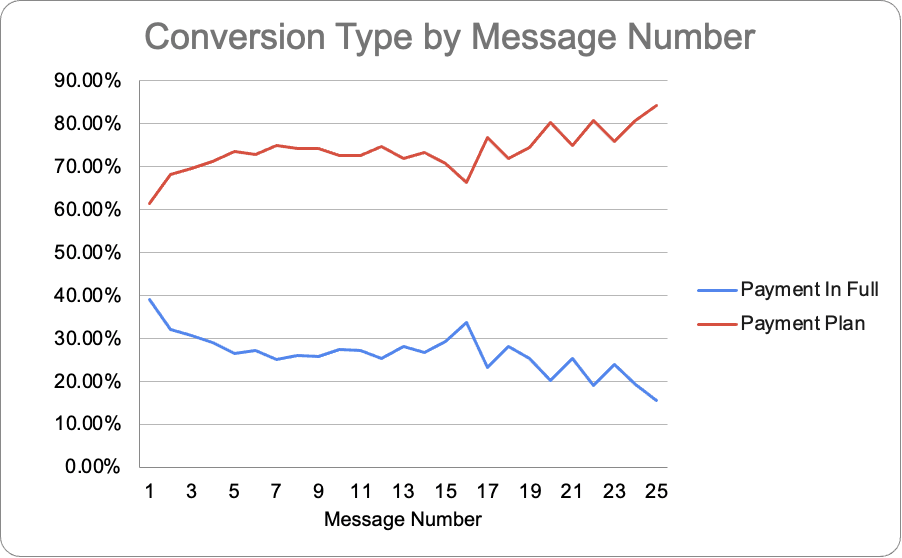 But no matter how overdue an account is, a digital approach works at any stage. Whether we're dealing with an account that's one day overdue or one that's 1000 days overdue, a digital approach is still more effective than an analog one because of the highly effective customer engagement. "The argument is not around how late the debt is, but how well you engage with the customer," Foreman says. "The success of our approach is also evidenced in the high number of five-star Google reviews we receive."
Customers prefer digital
But it's not just our figures that reflect the effectiveness of a digital approach to collections at all stages of accounts. A McKinsey & Co survey found contacting customers through preferred digital channels improves effectiveness, especially in the 30-plus days past-due segment. Most survey respondents indicated they are less motivated to take action when contacted through traditional channels.
Foreman says unfortunately some businesses think digital is the option you use to save money before going back to the traditional style of debt collection. "But digital debt collection is about implementing efficiencies that allow you to recover more – at all stages of accounts."