Many organizations require their debt collection agencies to manage large volumes of collections at scale – but not all are set up to do this. As a digital debt collection agency, InDebted's automated platform allows for this without any trade-off to compliance or to the positive customer experiences it provides.
---
Managing debt collections at scale comes with specific challenges that require an agency to quickly adapt to changing requirements. One of the benefits of our digital platform is that it can flexibly scale to securely handle any volume of accounts while delivering personalized, positive and compliant experiences to customers. To do this, our technical specification incorporates a number of principles such as to:
Automate everything that can be automated while keeping the human touch to customer experiences
Leverage data science to optimize collections performance through messaging and financial models
Embrace sophistication with simplicity. Do one thing and do it well.
Our digital platform has two main elements: a consumer-facing part that allows customers to resolve their accounts, and a client-facing one that incorporates a user-friendly API (application programming interface) through which clients send their customers' account details via a secure file transfer protocol (SFTP) server.
An Overview of Our Process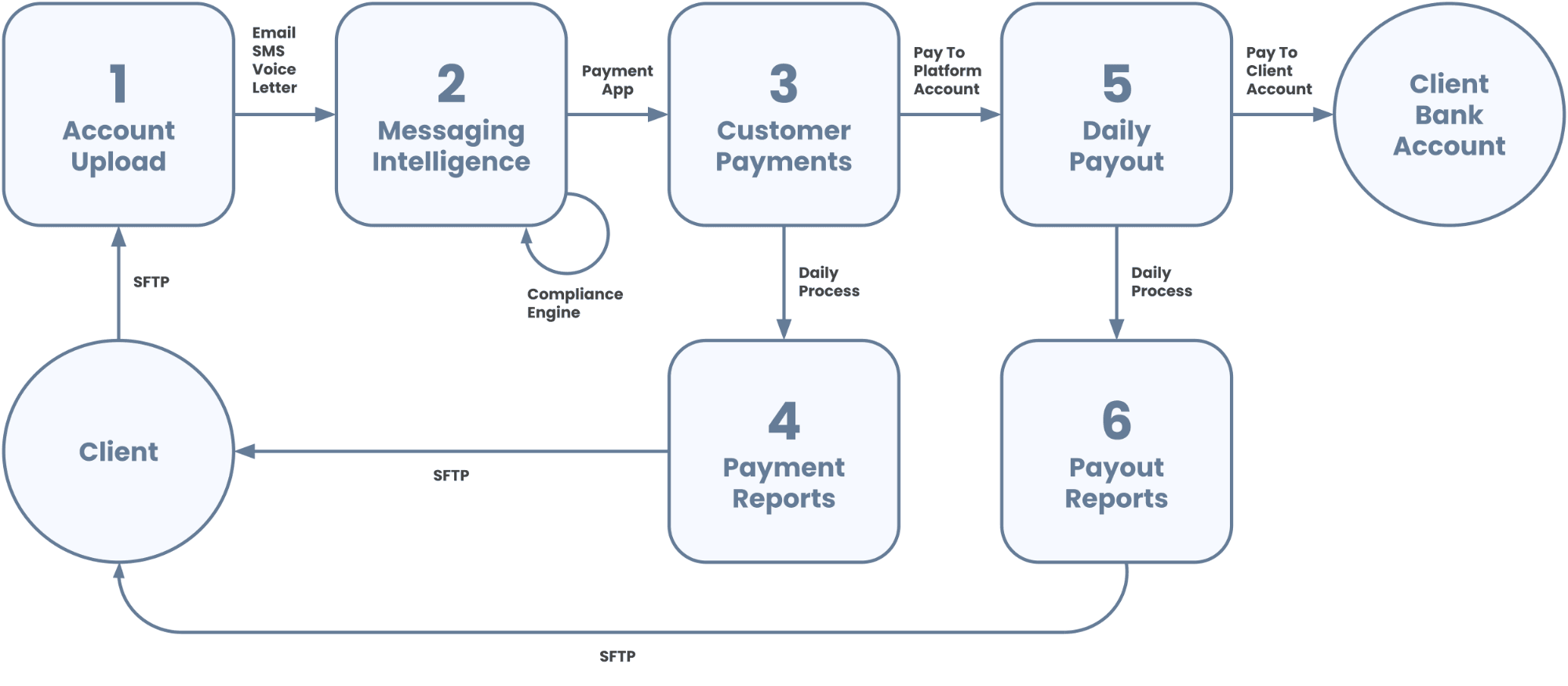 InDebted's Senior Product Manager, Celeste Bird explains that once the customer accounts are received, the API intuitively determines whether it's more effective to contact customers by SMS or email. "Depending on how the customer responds, our strategy adjusts accordingly," Bird says. "And any information about the customers' experiences is automatically fed back to the client in a feedback loop so they can update their systems."
Bird says as the platform is fully automated, it can be scaled up and down according to the number of accounts received. "Our clients can refer as many accounts as they wish on any particular day – whether it's a million or 10," she says. "And our platform intelligently adjusts the experience to personalize it for each specific customer."
Collections Automation Boosts Effectiveness
If, say, a million accounts have been referred, and they vary across 30 different data points – such as age of the account, balance, or location of the customer – the platform automatically takes the right action for each account across all the variables.  And once the platform knows a customer's location, it automatically ensures all communications are compliant for that location, such as by only sending messages at the regulated correct time and as many times as allowed. 
"For example, America has different data collection rules and regulations for each state," Bird explains. "But our clients can upload any number of customer accounts for any location across the country and be assured they'll always have a compliant experience that is tailored to each customer."
Much of the success of InDebted's digital platform's ability to scale so effectively is attributed to the developer-friendly API. Bird says when clients integrate with the platform, there's a high-quality connection that's built right from the start. "We undertake very strong validations and checks," she says. "This means even though we operate at such scale, we have very few data quality issues, which is great for both the client and the customer."