Using voice AI to help customers maintain their payment plans
Setting up a payment plan is an easy, flexible way to get on top of debt in incremental amounts over time. But sometimes, a payment plan can break for a number of reasons, like insufficient funds or a card expiring. In this case, we've looked at how we can give customers a little more support with the help of Voice AI.
Find out how we've leveraged AI to reduce break rates and get customers safely back on track to financial freedom.
What is voice AI? 
Voice AI is a form of conversational AI - this is a type of AI that can mimic human conversation. It works by using a combination of natural language processing and machine learning.
 AI voice can understand and respond to human voice commands, using two key elements:
Natural language processing: enables the tool to understand, process and analyse human language in real-time. 
Natural language understanding: enables the tool to understand the meaning and context  behind what's being said, and give the right response. 
Essentially, voice AI enables us to support more customers in real time to resolve common queries and requests. 
How does it work?
Similar to our Collect product, it's all about how you program the technology. Our voice AI has these pillars  built-in:
Local compliance regulations: To ensure that customers are contacted within the requirements of their specific region.
Security: In every single call, our voice AI verifies that we're speaking to the right person using specific identifying details that are unique to the customer. 
Training: Our specialist team has programmed our voice AI with performance-tested scripts that build trust with customers, so they know we're here to help them get back on track. 
Human support: We know there are times when a customer just wants to speak to a real person. If that's the case, voice AI can connect them directly to one of our specialist Customer Support  team members. 
Voice AI personalises every individual conversation to empower customers with the right information to resolve their account. To go even further, our team regularly reviews performance to identify trends and make enhancements to our scripts - creating a balance between human touch and AI efficiencies.
How are we using voice AI to help customers maintain their payment plans? 
If a customer's payment plan breaks due to insufficient funds or an expired card, they'll receive an SMS from InDebted with a link to set up a new payment plan. This message includes a heads up that if we don't hear from them, we'll give them a call: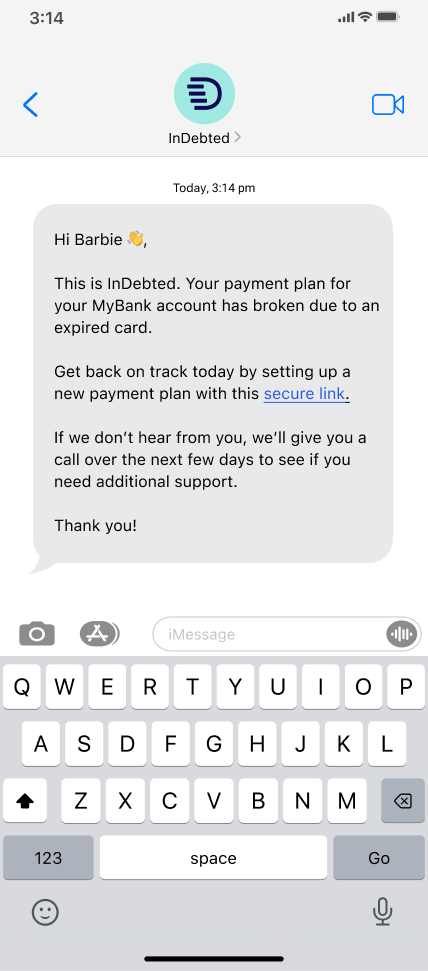 If they don't get a chance to set up a new plan through  the SMS link, our voice AI will call them. On the call, customers will be asked to verify who they are, and confirm they're happy to continue. Next, they'll walk through why their plan broke, how they can set up a new one and prevent it from breaking again, or they can be put through to one of our Customer Support team members. 
What's the impact been so far?
Our first voice AI campaign targeting broken payment plans began in July 2023 and is still running. In the first week alone: 
The overall conversion rate was 6.8%
In one week, generated $747,226.67 in collections 
91.9% restarted their payment plan, and 8.1% resolved their entire balance in full
What is the future for voice AI at InDebted?
We launched voice AI capability in Beta in Australia. Now we've seen promising results, we'll be rolling it out more broadly including in the United States later this year. 
As for the future of AI in collections? InDebted is in a strong position to leverage our internal expertise and set the standard for how to integrate this technology effectively, safely and considerately. Our goal is to set the gold standard in AI-driven collections to ensure an even better customer experience.