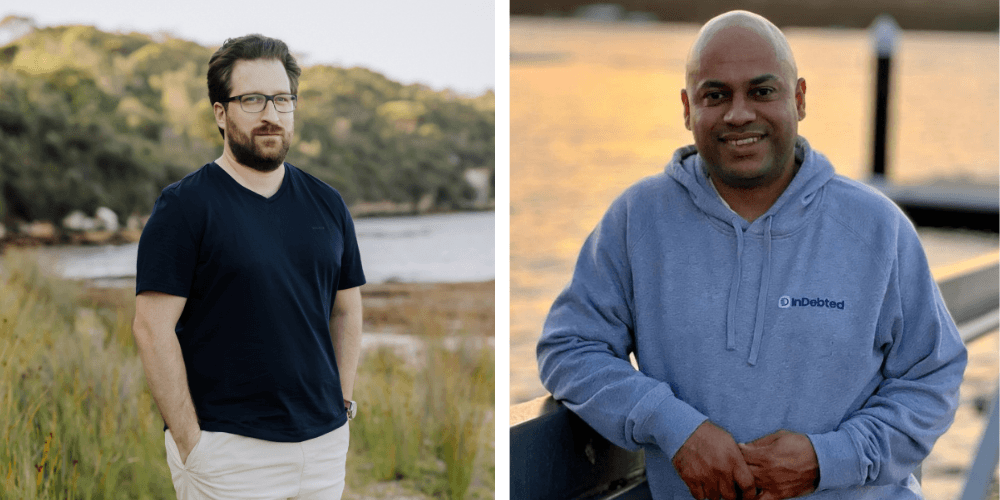 InDebted has kicked off 2022 with senior hires in two newly created global roles.
We're thrilled to have welcomed Pierre Bergamin as VP, Engineering (left) and Roger Almeida as Head of Product (right). As we officially transition into our hyper-growth scale up mode, our sights are firmly set on how we can strengthen our existing product offering, in addition to supporting our scalability and expansion into new markets in 2022. 
Meet Pierre Bergamin, VP Engineering
Pierre joins InDebted with extensive engineering leadership experience, and a track record of successfully scaling engineering organisations and products. His background includes time as VP, Engineering at Assignar, and Head of Engineering at Learnosity, as well as roles in his home country, Switzerland. 
A specialist in SaaS & Product led companies, Pierre is no stranger to scaling organisations. At Assignar, Pierre was instrumental in their transition to scale-up phase as they secured Series B funding and increased their headcount and delivery across multiple engineering teams. Previous to this, Pierre was an integral leader at Learnosity, spending almost seven years with the business in various leadership roles. Learnosity is now the leading global API as a Product platform for EdTech, with millions of monthly active users. 
Pierre is passionate about building great and innovative products to serve under-digitised industries, and delivering delightful experiences - this includes for the end users of our platform, and his team.
At InDebted, Pierre will be responsible for ensuring our platform is scalable while maintaining a high standard of quality, and that our customer product is available and accessible. 
With all of this comes the need to grow InDebted's global engineering team - starting now. Under Pierre's leadership, his goal is for InDebted to become a world-class organisation for engineers that stands out not only because of the high calibre of our engineering talent, but also as a team that is leading the way for collaboration and inclusion.
Passionate about InDebted's vision to remove barriers to financial freedom for all people, Pierre said the opportunity for InDebted to become the industry standard API for debt collection was an attractive proposition. 
"When I met Josh, I really connected with his vision for InDebted and the future of product here. I strongly believe that there's so much potential for us to build an ecosystem of products that will enable us to truly deliver on our mission and vision in empowering and innovative ways."
Meet Roger Almeida, Head of Product
An experienced leader in Product Delivery, Software Engineering and payments, Roger joins InDebted from his most recent role as Head of Digital at DNX Solutions, having previously led delivery at Tyro Payments. 
Roger's track record in product delivery includes bringing Tyro's lending product to market, and he is one of the founding members of Adatree, Australia's leading Open-Banking middleware providers.
Roger's philosophy is that the best products come from developing a deep understanding of the customer and their needs, and he is a firm believer that product-led companies have the power to disrupt industries and outperform their competitors. 
Roger's vision for Product at InDebted is built on empathy for the position our customers are in, and the challenges they are facing. Empathy is central to how we make product decisions, and how we empower our teams to shape the full customer journey in creative and innovative ways.
To deliver on this, Roger plans to expand the global footprint of our product team, and run Continuous Discovery workshops for different demographics and markets - always focusing on the customer and how we can support their debt free journey.
Drawn to InDebted's mission, Roger said that the opportunity to create change in an industry known for its lack of empathy and compassion with unique customer centric product design was of huge appeal to him. 
"We are taking the shame and confrontation out of debt. Everybody deserves the opportunity to recover from a financial mis-step in a way that is fair, safe and considerate - and most importantly - places their experience at the centre of the process."
With Pierre and Roger's leadership, InDebted is well positioned to ramp up our global growth trajectory.
Josh Foreman, Founder and CEO of InDebted, said Pierre and Roger's backgrounds scaling teams in global product-led businesses made them both a great fit for InDebted.
"The next 12 months will be crucial for InDebted's strategy. This means being the most valued debt collection partner to our clients, providing an industry leading customer experience, and creating a frictionless, agile and scalable product that can sustain our global expansion. 

We know that having the best talent and leaders on board is the key to delivering on this - to help us change the world of consumer debt recovery for good - with a long-term vision to how we can improve overall financial wellbeing too."
---
Want to be a part of changing the world of consumer debt recovery for good? Head to our careers page.