The benefits of adopting a consumer-centric approach 
Debt collection models can no longer rely on a one-size-fits-all approach to deal with the overdue accounts of clients' customers. That model is broken. Instead, a customer-centric and digital-first approach that creates less stress for consumers and greater benefits for businesses is required.
InDebted's process is simple and seamless. Once a business sends through its collections data, it's ingested into InDebted's platform, where behavioural and machine-learning models determine the channel, template and time that messages are sent to the organisation's customers. 
"These processes have been enhanced over time, so the type of message consumers are getting, the channel it's on, and the time it arrives, is statistically correlated to that consumer's preferences for contact," Foreman says. 
Digital debt collection can engage with either one customer or one million in the space of a few seconds.
InDebted offers customers of its clients the ability to self-serve, an opportunity that roughly 90% of them take up. This functionality lets them access the message when they want to deal with it, set up a payment plan, pay in full or dispute their account. They can also choose to respond using whatever channel they want, including email, SMS, WhatsApp, phone or live chat.
"Any communication we have with a client's customer is routed back into our platform to produce a unified view that allows us to see what it is they need," Foreman says. "The power is going back into the consumer's hands, both about how to pay and how to resolve their account."
Empowering the consumer pays dividends
Empowering the consumer is important for helping reduce the reputational risk an organisation may suffer from chasing overdue debts. Organisations are constantly undertaking risk-management exercises on how much they can collect before they could suffer damage to their brand. This risk analysis also flows into conversations about churn, including how many customers could leave an organisation after being contacted by a debt collector, and what could be done about re-engaging them. 
Foreman says when an organisation is dealing with overdue debts of thousands of customers, the danger of increased churn becomes more of a challenge when using a traditional debt collection model. This is because, with a traditional model, a business's risk increases with every consumer that's contacted.
"Digital debt collection doesn't have this issue because of its ability to scale," he says. "Each message that is sent is checked by our platform and approved, so there is no room for the errors that traditional models are known for. We can also rapidly scale to expand to accommodate our clients' new geographies and customers as they come on board."
How InDebted Exceeds Industry Returns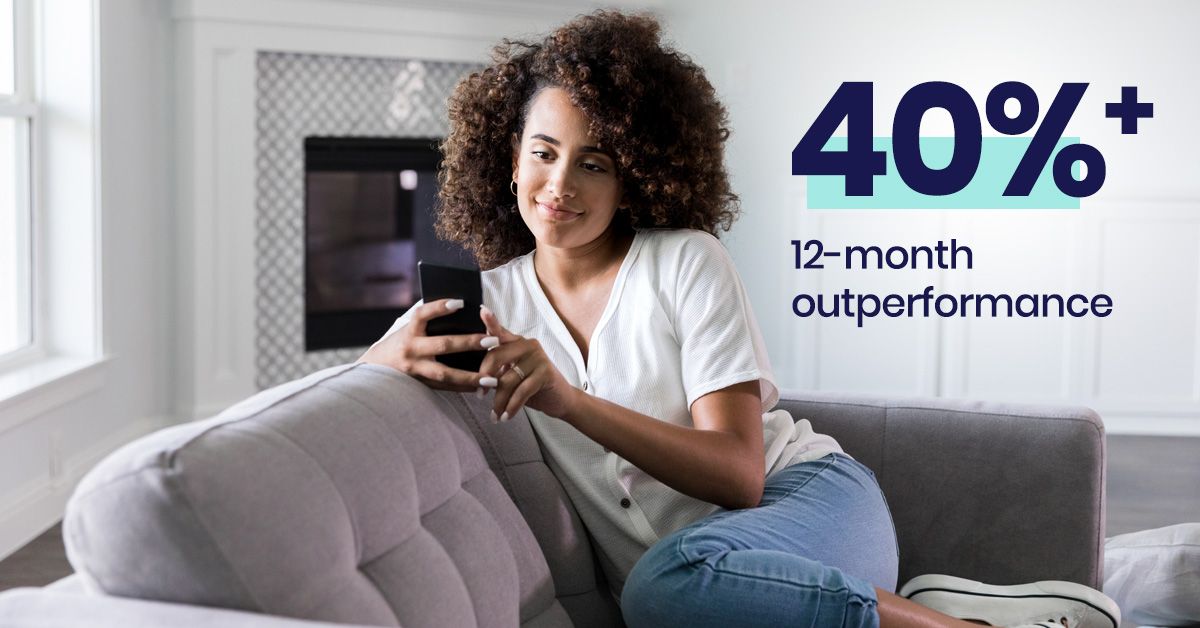 If an organisation, especially a large customer-focused one, is to change the way it has done things in the past, it needs a very good reason. InDebted has been able to demonstrate to its clients that a customer-centric, digital-first model helps deliver above-industry returns while also providing a better experience to their customers.
InDebted's results show a 40%-plus 12-month outperformance against traditional agencies on a head-to-head basis. This has been achieved largely through its use of machine learning technology that optimises how it reaches consumers. Its collections performance improves with every customer interaction, which it aims to make as simple and pleasant as possible. This approach is reflected in the 4.9 out of 5-star reviews it has garnered on Google – an extremely rare scenario for the debt collection industry. 
InDebted's digital offering is the only product that consumer brands need for debt collection. So how does it deliver its results?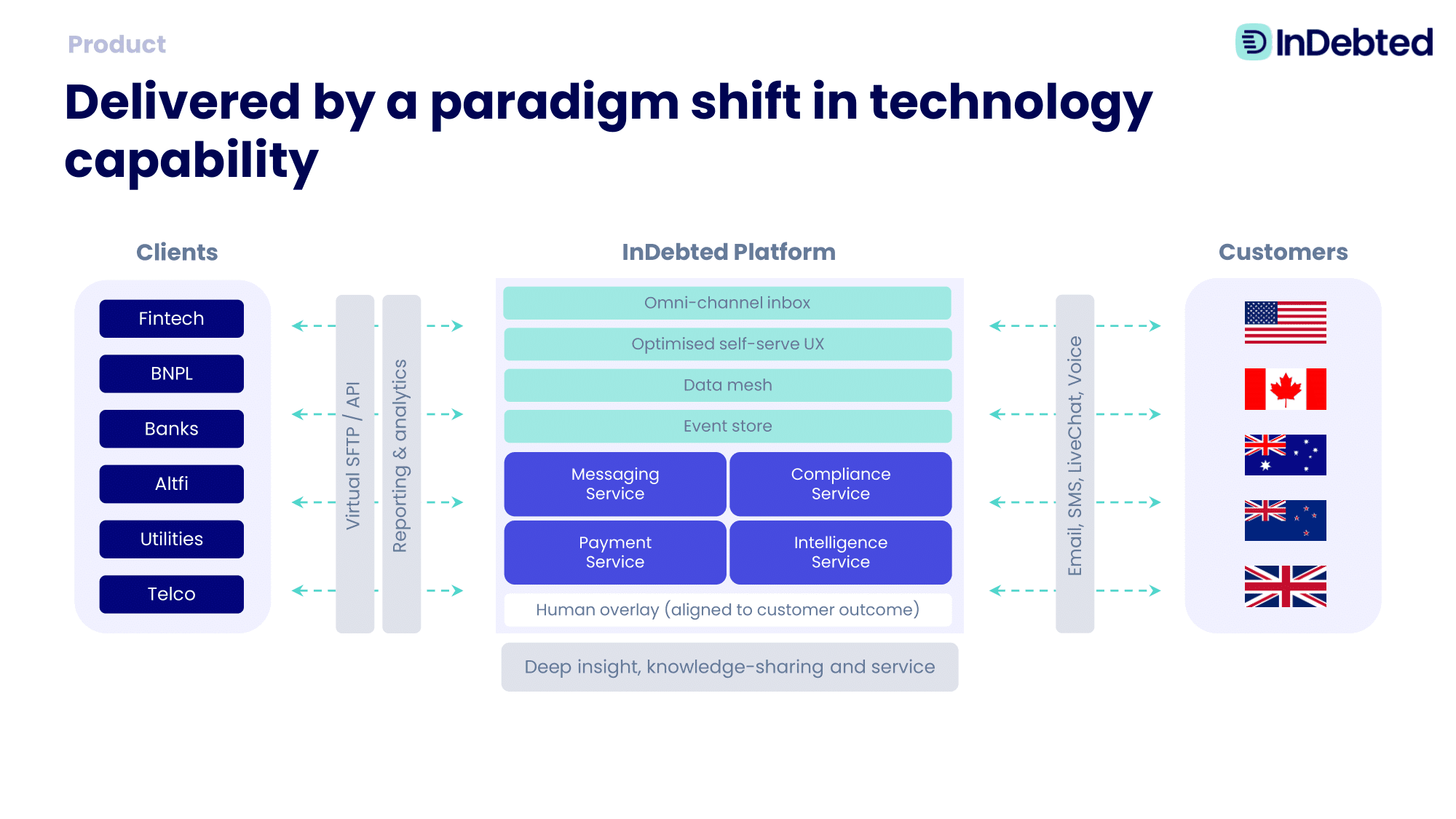 The graphic above highlights how InDebted has democratised the different components involved in the collections process. 
"Our platform gives our clients a single API [application programming interface] to support their operations no matter where they are based," Foreman says. "We have all our services – messaging, payment, compliance and intelligence – sitting under one platform wrapped into one centralised system. This provides our clients, especially those that want to operate in multiple markets, with just a single interface."
Single interface simplifies reporting process
The key advantage of a single interface is that no matter where an organisation's customers are based, InDebted can take all the debt-collection elements that need to be dealt with, including compliance requirements for each country, and present the information in a standardised format. "Our platform automatically recognises whether you're allowed to send SMS or emails in a particular region and at what hours it can be done," Foreman says. "It also instantly knows what a message is allowed to say as it takes care of all of the compliance and regulatory requirements. Even the different payment processes and payment options for each geography are built into our platform."
"Our platform automatically recognises whether you're allowed to send SMS or emails in a particular region and at what hours it can be done."
Being presented with such detailed information in a standardised format is a key attraction of using InDebted, especially for larger organisations. "If you consider a global fintech, for example, they could have customers in many countries, but with us, they only need to deal with the one interface," Foreman says. "They receive our reports in the same format, irrespective of where their customers are based. And that's not something that's ever existed in collections before."
Why RPC is no longer the best metric for debt collection
RPC (Right Party Connect) is one of the most commonly used metrics in debt collections. It's an outbound call metric that measures how many times an agent connects with the right person. According to Foreman, the RPC rate for traditional debt collectors has plummeted over recent years to around 1.3% to 2%. Not connecting with the right person could be due to many reasons such as they don't answer, you get a voice message, the line is engaged, or you speak to someone but they're not the person you want.
"We don't use the RPC metric in our business because we don't make many outbound phone calls," Foreman says. "But we also don't think it's the best way to understand how effective our interactions with an organisation's customers are."
InDebted tracks effectiveness using ways that are more in line with digital marketing, such as email delivery rate, open rate, click rate, and conversion rate. This allows it to see that, for example, what the open rate of a particular email template is that it sends.
"You could think of that as being like an RPC but we then look at how many people open that email and then click on the link," Foreman says. "And then how many people who clicked on the link, then set up a payment plan. The RPC metric doesn't provide us with the holistic view we need to better engage with our clients' customers."