Collect

bettereasiersafersmarter.
Use Collect's data, digital and emotional intelligence to see increased recoveries, faster liquidation, and empowered customers.
Strengthen your recoveries backbone with Collect
Our product does most of the work, but our industry leading support team is also available wherever and whenever customers need us, across all voice and digital channels.
Omnichannel across voice and digital

It's digital-first, but not digital only. Omnichannel means being available wherever customers need us, while providing a personalised recoveries experience rooted in data science.

Backed by billions of data points

Built on the world's largest data bank on how to maximise collections performance, our machine learning models are constantly finding better ways to collect based on insights generated from over two million customers.

Personalised customer App

The end-to-end customer experience is built for customer autonomy and convenience. Once logged in to the App, all payment options are responsive to your customers' unique financial position.

Multi-market compliance firewall

Collections regulations, consumer protections and licensing requirements are all built into our product by code, secured by a firewall that ensures all activity is compliant with your local regulations.
The Collect customer experience
Take a product tour of David's personalised journey towards debt freedom.
Experience how customers can create a payment plan with a start date, frequency and amount of their choice.
See it in full
See how your customers can resolve their balance entirely self-serve in just a few easy clicks.
See it in full
Experience what it's like to receive email and SMS communications, and learn how they're entirely informed by data science to support each customer to engage with their debt, their way.
See it in full
Your borderless recoveries partner
For organisations with ambitious growth goals or simply looking for a sole collections partner across multiple markets, Collect is secure, compliant, and easily scalable.
Collect's client Portal enables you to access the data you need, when you need it
View the big picture information you need to know such as your overall liquidation, spin down, active payment plans, and payment forecasts.
The portal opens the door for you to see insights on a demographic level across areas including payment plan enrolments, engagement, and channel performance.
Actions such as updating customer information or recalling an account can also be managed by your internal teams through the portal.
See it all in action
Whether you're an enterprise or startup, Collect can support your collections needs across all types of consumer debt. Get in touch to request a demo of our product and to learn more about our business.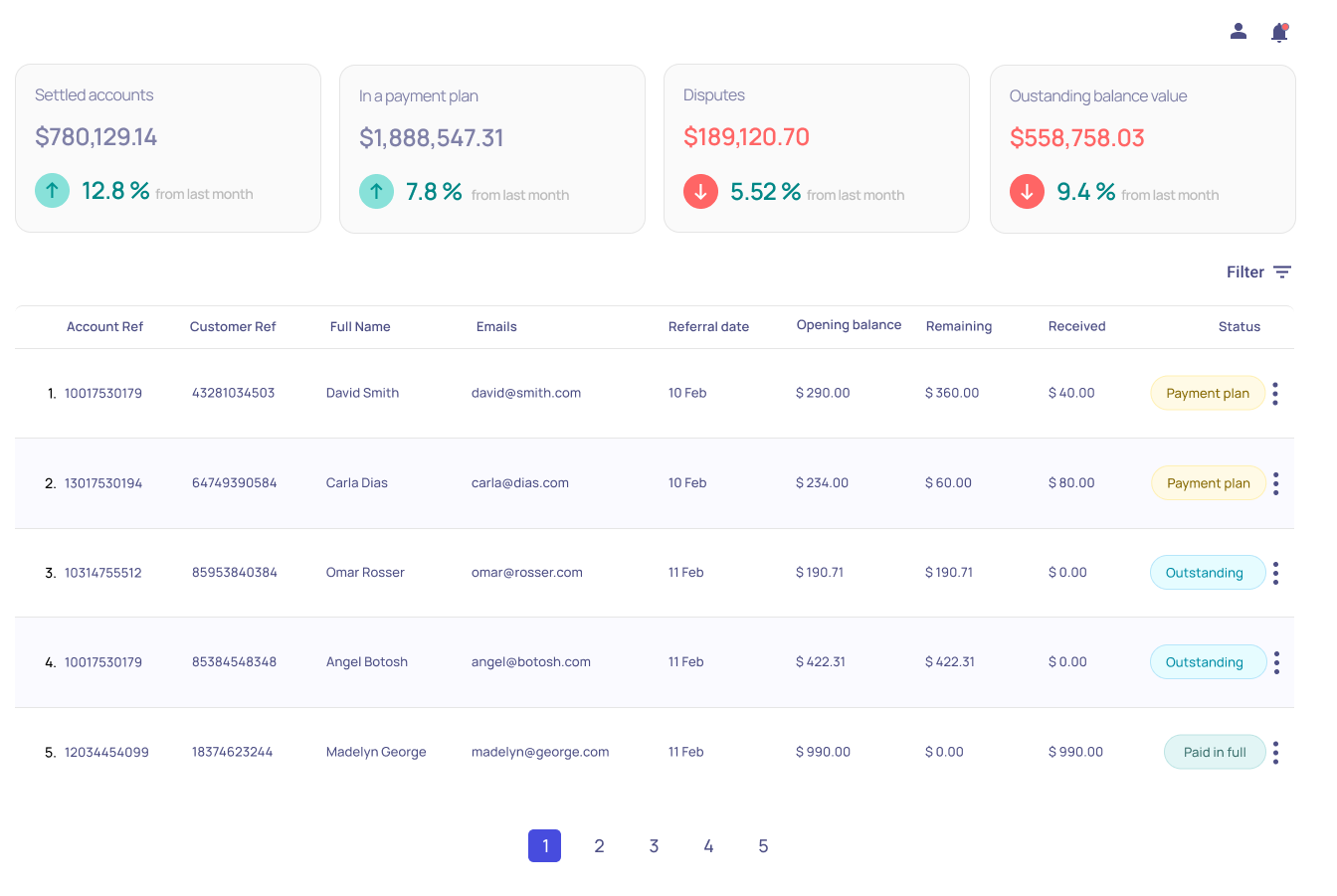 Getting set up with Collect
Our onboarding process is straightforward, with a few different options depending on your company size and type of debt.
Start referring customers in minutes

View our documentation here to start feeding your customer accounts into our product via SFTP and get started fast.

Work with our Data Integration team

For more technical needs, our specialist team can manage the necessary file transfer and transformations processes.

Customised to meet your needs

Custom integrations can create a third party collections extension between our product and your internal system.