How InDebted Provides a Competitive Advantage
When in business, it's imperative to maintain a competitive advantage, especially in such a fast-moving sector. Our digital platform can help with this as we're able to quickly work with your customers in a way that protects your relationship with them. By ensuring your customers receive a positive collections experience, they're more likely to stay loyal. And the more customers who stay with you, the less you need to spend on acquiring new ones.
"If it's midnight in Sydney and a customer wants to pay their bill or they've got a question, there will be somebody somewhere in the world who can respond."
Providing these positive experiences doesn't happen automatically. We're always investigating ways to further enhance the customer collections experience. Currently, we're building a 24/7 customer care center staffed by care agents around the world. Our research shows about 35% of customers engage with our platform outside standard business hours. Because of this, we feel the onus of responsibility is on us to be there to help your customers when they require it. "If it's midnight in Sydney and a customer wants to pay their bill or they've got a question, there will be somebody somewhere in the world who can respond," Foreman says.
Our ability to provide you with a competitive advantage is also based on our attractive market share within your sector. "We are in the fortunate position to be working with a very large segment of the BNPL industry globally," Foreman says. "And as a result, we have unique benchmarking and insights we can provide to help you with actions such as benchmarking against your peers."
These insights can also assist with your internal operations. For example, we can show you what the email open rates are for your customers and how that compares to your competitors. If, say, you find the open rate is 30% worse than other BNPLs, it's a leading indicator that there's something wrong with your email quality and an important prompt for you to investigate and remedy it.
Understanding InDebted's Partnership-led Approach
When you decide to outsource your collections to an agency, it's important to choose one with which you can form a strong relationship. This can make a huge difference, not only to the amount collected, but also to your reputation. But what makes a partnership exceptional – especially when service levels between debt collection agencies are generally standard across the industry? When it comes to us, we offer a number of layers on top of service levels that make us stand out.
"We can say quite confidently that we offer the best customer experience for collections," Foreman says. "This is evidenced by the high number of five-star Google reviews we receive. The unique insights we gain by looking after your customers allows us to help you better understand and support those customers who have fallen behind."
One of the businesses we partner with, Latitude, agrees.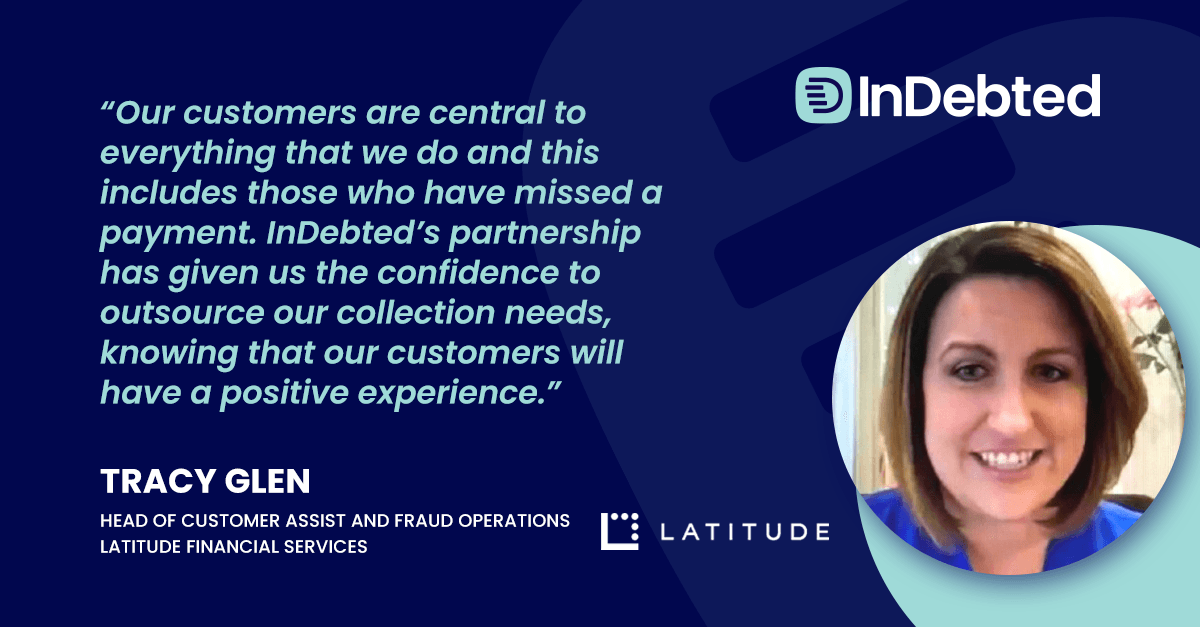 Structured monthly performance and quarterly business reviews that help inform your strategies, is another service we provide. For example, we can provide you with insights around which retailers' customers are less likely to pay off their debt. This can help you ascertain if you need to shrink the credit limit offered to customers at those stores.
Our partnership-led approach is also evident in the way we share our local knowledge, especially in new areas you're considering expanding into. "South-East Asia is one region where we're setting up and there's many opportunities here for BNPLs," Collins says. "We're able to share information on things such as where to locate an office, and why. Our aim is to truly partner with you across all levels."
---
What do BNPLs Need From a Debt Collection Agency?
If you're focused on the customer acquisition side of your business, it makes sense to outsource your debt collection activities to a specialist agency. Being a digital business yourself, it's important you partner with an organization that is also digital. 
"We are a digital-first, customer-focussed business that reflects what your customers want," Foreman says. "Your customers opt for a full digital experience – they sign up digitally, communicate digitally, the entire experience is digital, so a digital debt collection experience makes sense over an analog or traditional one."  
And like your own business, you'd also expect your debt collection agency to be able to scale in line with your growth. If you're growing very fast, you're likely hiring hundreds of people in sales and marketing and other departments. This means you're unlikely to want to spend money on hiring hundreds of call center staff to deal with those customers around the world who may have missed a payment. Our digital platform is flexible and scalable, so it easily adapts to your changing needs and unique requirements. 
And with your time at a premium, our platform only requires one integration to support your operations, no matter how many regions you're expanding into. Having us as a single provider not only simplifies your rollout plans but gives you uniformity around your global reporting. You also receive the same level of service consistency no matter where you're based, without needing to invest in multi-country supplier management. 
"If your debt collection strategy isn't effective you're more likely to experience poor commercial returns and resentful customers, which will impact your growth ambitions," Foreman says. "Our digital offering supports your goals while delivering personalized and positive experiences to your customers so you can focus on what you do best."